Delivering
Australia-wide
and WorldWide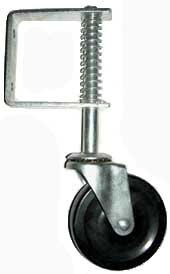 Moving your mouse over the picture will show the direction the wheel moves when the gate is opening and closing.

280mm
without compression
Gate
Jockey wheel for gates
Ideal for a quick fix to those sagging gates, but only for gates up to 57Kgs. Spring loaded jockey wheel/Gate Caster.

Simply attach it behind the gate and attach the wheel using wood or Tek screws, for metal.
P/N WH700

Galvanized Mounting Bracket
Spring loaded self leveler with
compression up to 0.40mm

40mm
Travel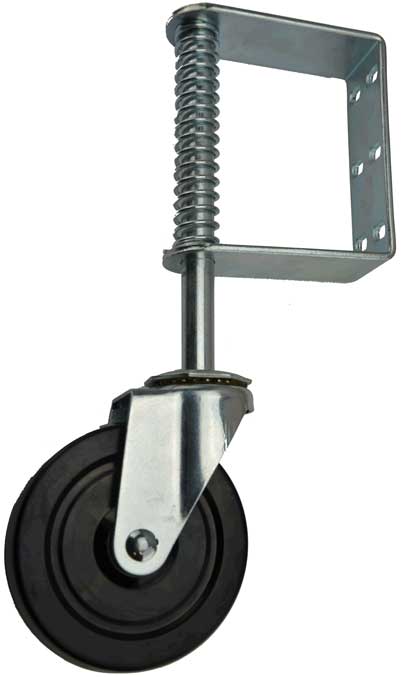 65mm
Travel

Bracket
5mm thick x 50mm Wide
Wheel Diameter
125mm
Part Number - WH705
Jockey wheel for Gates upto 100 kgs


Care should be taken if both pins on the hinge are facing upwards these jockey wheel will place an upwards pressure and can lift the gate of the hinges, If possible turn the top hinge upside down or secure a bolt head directly on top of the socket that cover the pin at the top stopping it from lifting off.
Solid Nylon Wheels

Not ideal for Gravel driveways
Solid Nylon
Wheels

Not ideal for Gravel driveways
Wheel Diameter
100mm
365mm
without
compression
Jockey Wheel for Gates upto 57kgs
Jockey Wheel for Gates upto 100kgs
HEAVY DUTY Spring Loaded Jockey Wheels